By Alex Braun
Don't get me wrong – my summer internships were great learning experiences – but they rarely contained the kind of action and adventure that these movie bosses brought to work.
With the Fourth of July weekend almost upon us, we had to ask, "Which blockbuster movie character would you want to learn under?" (We asked ourselves, by the way. But you can leave your own opinion in the comments.)
#10: President Whitmore, Independence Day
Who knows what Bill Pullman is doing these days, but in 1996, he was the ultimate badass president – the kind who could destroy a microphone and a number of alien fighters in a single evening.
The only drawback to working in the Whitmore Administration is that having a 15-mile wide spacecraft hovering over your city can really mess with a summer tan.
#9: Harvey Dent, The Dark Knight
When Gotham's rock-star attorney punched out a witness and stole his gun — remaining calm enough to conclude his cross-examination with a witty zinger — 40,000 young people signed up for the LSAT.
#8: John Hammond, Jurassic Park
Sure, there are some occupational hazards at InGen, but how many of your friends have seen a baby velociraptor hatch this summer? We'll just keep the story about Samuel L. Jackson's severed arm to ourselves.
#7: Henry "Indiana" Jones Jr., Raiders of the Lost Ark
You'd have to think that Indy's T.A. gets paid pretty well, considering how often Jones is cracking the bullwhip in Peru or India or Venice or (let's try to forget this) Area 51. We're dead sure Jones has got tenure, and whoever learns under him is going to be well on their way, too.
#6: Harry Stamper, Armageddon
Yep, I had to look up the name of Bruce Willis' character. That's not the point.
Stamper was a grizzled, no-nonsense oil man who was deceptively intelligent, and always got the best out of the people around him. Plus, he'd do anything to protect his crew – up to and including hitching himself to a nuclear weapon.
Just be careful around his daughter. Real careful.
#5: Clarice Starling, The Silence of the Lambs
She might be a bit young to have her own intern, but Clarice's perseverance and and restraint in the face of Hannibal Lecter's insidious mind games are a great model for anyone coming up in law enforcement. And you'll get on her good side if you always carry around a spare flashlight.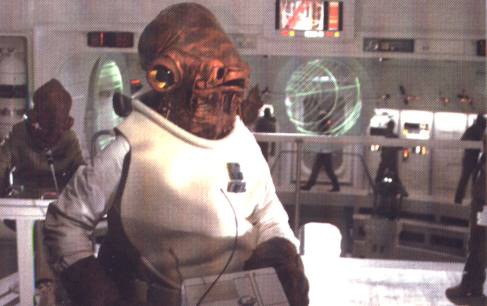 #4: Admiral Ackbar, Return of the Jedi
If you have naval (or space-naval) aspirations, there should be nothing more appealing than serving under the command of a big, lovable squid.
Don't expect to get any slack under Ackbar's watch – he's got eyes on the side of his head. It's a traaaaap!
#3: Dr. Emmett Brown, Back to the Future
Trouble has a way of following the Doc, but you can't say he isn't passionate about his craft. Commuting by skateboard would save you tons of gas money, and work hours are pretty flexible when you can you can just punch a few buttons in the DeLorean to make them up.
#2: M, The James Bond franchise
It's always fun watching Sean Connery as the original international man of mystery, but the one thing the old Bond movies lack is a commanding personality to challenge 007's reckless behavior. Dame Judi Dench is one of those bosses you fear and love at the same time, and we think she'd be a killer reference.
#1: Ron Burgundy, Anchorman
Mr. Burgundy represents the most useful kind of professional mentor – one who's likely to implode, leaving you a golden opportunity for advancement. Depending on how much jazz flute you can tolerate, you should stick to his side when you're not in the newsroom. He probably can get you into some pretty sweet pool parties.